2020 COVID Harvest Update
December 20, 2020
2020 was definitely a different year for us all. Hoping everyone was able to focus on their health and well-being and taking time to reflect on the important things. Check out this youtube video for how we maintained our social distancing during this year's harvest!
2017 Cranberry Field Day!
July 28, 2017
CRANBERRY FIELD DAY!
Date: Tuesday, August 22, 2017
Time: 9:30 am
Location: COAST CRANBERRIES LTD
21710 Allard Crescent, Langley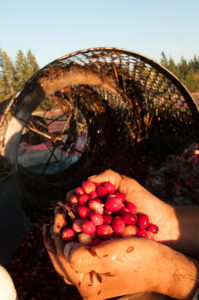 Displays of the latest in commercial equipment from suppliers to the cranberry industry
Grower's own innovative and new farm equipment
Information regarding cranberry production issues and research projects
Opportunity to view cranberry bog
Most importantly, the Cranberry Field Day will provide cranberry growers and other industry stakeholders the opportunity to meet with each other in an informal setting.
Mark your calendars – you don't want to miss this event!
RSVP to Heather info@bccranberries.com or call 604-557-8717
Fort Langley Cranberry Festival
October 1, 2013
Come celebrate our proud cranberry history at the 18th Annual Fort Langley Cranberry Festival on Saturday, October 12 at 23433 Mavis Avenue, Fort Langley, BC. The fun starts at 8:30am with a pancake breakfast and continues to 4pm with activities for the whole family. Enjoy contests, live music on the Main Stage, cooking demos, a fashion show and much more!